ThinC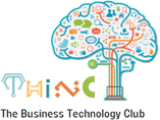 ThinC is the Business Technology Club of MDI Gurgaon, dedicated to disseminating relevant information about Product Management, Information Management domain. The club strives to keep the students updated about the latest happenings from the SMAC domain, digitization via various means. The club is at the forefront of keeping students updated about the amalgamation of Business and Technology, with both being vital pillars to succeed as a manager in modern times.
The club is divided into four verticals namely Product and Tech Analyst, Creative and Social Media, Event Management, and Corporate Engagement. All the verticals work in tandem to ensure the successful execution of events all-round the year and deliver high-quality content over numerous channels. The club also actively releases interesting Business-tech related live projects available to the current batches, time and again.
Main Events:
Neurotrix: TheNational BizTechquizwasconductedincollaborationwithInfinitePounces as part of the Imperium 2022 Festival. The competition was launched on theD2Cplatformandsawmorethan750registrations,participationfromreputedManagement institutes such as IIM Ahmedabad, IIM Calcutta, FMS, XLRI, IIM Lucknow,SPJIMR, IIM Kozhikode, IIFT. Major Chandrakant Nair was the quiz master for fina-lround.The event included total cash prize of INR 8,500 for the top 3 teams.
Qrosity: Following its tradition of hosting treasure hunts as a part of the Imperiumfestival, in 2022, ThinC conducted Qrosity an Online Treasure Hunt. The competitionwas launched on the D2C platform and saw more than 200 registration from various college-sacross the country and abroad.The total cas hprize for top 3 teams was INR 6,000.
ProdWizard: For the first time ever, ThinC in collaboration with PM School as part ofImperium 2022 launched the product management case competition. This event hadmore than 300 registration from reputed Management institutes likeIIM Bangalore,IIM Calcutta, XLRI, IIM Kozhikode. The total cash prize was INR 28,000 for the top 3 winning teams along with certificates.
OpsTalkspaneldiscussion: Incollaboration with Opsession,ThinC hosted panel discussionon"Industry4.0:Technologies,OutcomesandtheFuture"whereDr.Dinesh Chandrasekar, CSO, Pactera EDGE, and Mr. Harish Gudi, COO, Tredence Inc.educated the audience about the real-world applications of Industr 4.0 technologies.
Pod-Cast: We conducted a podcast with Mr. Clement Kao, the Founder of ProductTeacher on the topic "Building Your Product Manager Profile" to help 100+ students improve their profiles for Product Management roles. The speaker discussed about recruiting gol-denmindset, pain points of Product Mangers and suggested measures to build a PM profile.
Weekly Updates:
Tech-bits: Tech-bits are the latest news snippets from the technology domain. We find-the technology and business-relevant current happenings and publish them in a concise way (100-120 words each). Tech-bits are floated every week to all the students to stay updated on the latest tech happenings worldwide.
Prod-Mania: The club engaged the students of MDI through weekly posts of productma-nagementcon-cepts,interview cases and mockinterviews.The initiative received an overwhelming response from the students.
Compendiums
Business Technology compendium for the upcoming batch of PG '22 was made whichco-vered topics of BigData,AIandML,FinTech,Metaverse,Industry4.0,etc.
Product Management Frameworks Handbook comprising of different PM frameworks,PM Interview compendium consolidating the experiences of PG '19 final placementsand PG '21 summer internship placements were prepared to assist PG '20 for product management specific roles in final placements
Liveprojects
Live projects from the following organizations were floated
VIDAACRUNCH
Logy.AI
TheTarzanWay
Secretary – Keshav Narayan