MDI welcomes new Director Prof. Arvind Sahay, amidst festive delight
October 17, 2023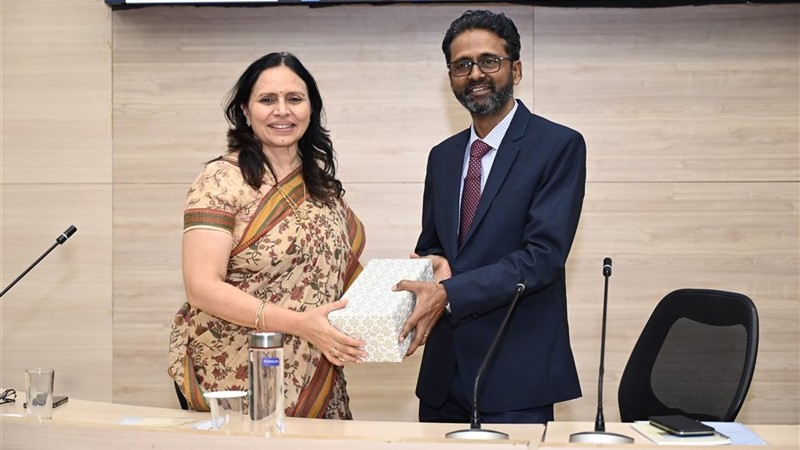 With much warmth, MDI welcomes our new Director Prof. Arvind Sahay onboard on 17th October 2023. Prior to joining MDI Gurgaon, Prof. Sahay held the position of Professor of Marketing at the Indian Institute of Management, Ahmedabad (IIM-A).
Known very well to a generation of students and managers, Prof. Sahay has made significant contributions to IIM Ahmedabad, as a teacher, researcher, consultant and administrator. He was serving as the Founding Chairperson of the NSE Center for Behavioral Sciences and the Chairperson of the India Gold Policy Center at IIM Ahmedabad just prior to his joining MDI. This marks a significant milestone for MDI in its journey towards excellence, given Prof. Sahay's standing in the field of marketing academia and his leadership roles at IIM-A.
Prof. Arvind Sahay, in his welcome address, acknowledged the fact that as a 50-year-old legacy-driven B-School, MDI Gurgaon possesses all the prerequisites of a successful educational institution, i.e. the bench strength is here, the academia team is here, the intellectual horsepower is here, the teaching & research capability is here – and now as a team, we are to take the natural progression ahead with more zeal and goal-oriented work. He urged all the teaching faculty members and non-teaching staff, to keep in mind a simple yet imperative premise as a code of conduct – that our students, our clients, our institution's objectives come foremost, then our individual interest or benefits. Once, we all synergize successfully towards this common approach, our institute, MDI Gurgaon is set to grow by leaps and bounds in the next coming years.
Prof. Sahay's contributions to academia are extensive. He has published research extensively in international peer reviewed journals, has written more than 60 cases and has been an outstanding teacher along with leadership roles in his career that includes roles such as Dean of Alumni & External Relations (2013-16), Chairperson of PGPX (2007-09), Chairperson of Executive Education (2017-19), and Chairperson of the Marketing Area (2019-2021) at IIM Ahmedabad. In business education in India, he is a pioneer in teaching and research in neuroscience applications in marketing and business. In March 2022, Prof. Sahay published his second book "Brands and the Brain."
MDI Gurgaon is all set to embrace new beginnings with zeal, warmth and unparalleled commitment.