MDI welcomes Fellow Programme in Management 2023 Batch
August 01, 2023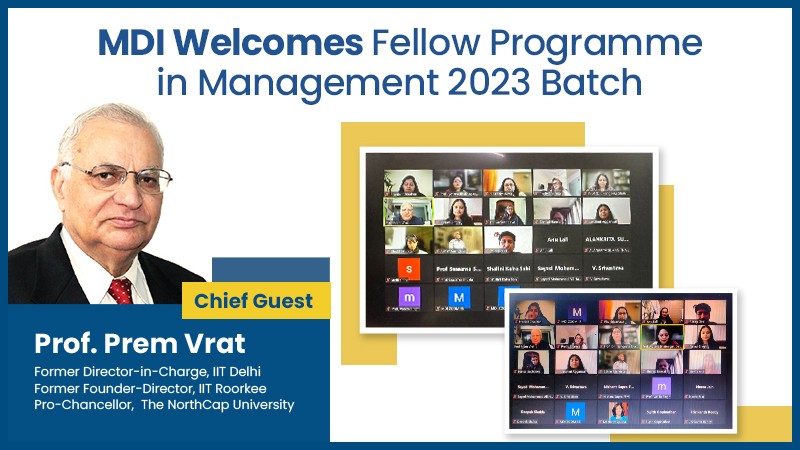 MDI takes immense pride in its Fellow Programme. With much warmth, MDI welcomed the new 2023 Batch of FPM on 1st August'23. the Induction and Inaugural session was graced by the presence of our Acting Director Prof. Sangeeta Shah Bhardwaj, Dean Research Prof. Jyotsna Bhatnagar and the esteemed Chief Guest Prof. Prem Vrat. An outstanding academic, Prof. Prem Vrat, is the former Founder-Director, IIT Roorkee; current Board of Governor Member IIT-Mandi; Professor, Head, Dean, Dy. Director and Director-in-charge at IIT Delhi; Professor and Division Chairman of Asian Institute of Technology, Bangkok; and chairs as Pro-Chancellor; Professor of Eminence at The NorthCap University, Gurugram. Prior to joining NorthCap or ITMU, he was Professor of Eminence at the MDI, Gurgaon.
Due to certain law and order constraints in our district, our Inaugural session was conducted online via Zoom, yet the zeal and enthusiasm of our scholars and guests remained unhindered. Prof. Vrat's inspiring anecdotes truly uplifted everyone's spirits as he cited a few words of the famous Rudyard Kipling's poem "I keep six honest serving-men (They taught me all I knew); Their names are What and Why and When and How and Where and Who." He emphasized how the answers to these 6 Questions will help the research students to successfully accomplish their quest for knowledge. He further stated a simple key to this endeavour, that 'one must enjoy doing research', a mantra that all our esteemed faculty and guests concurred.
With this encouraging interaction, MDI wishes our new FPM Batch the best wishes for their successful exploratory journeys.