MDI organises International Conference
July 06, 2023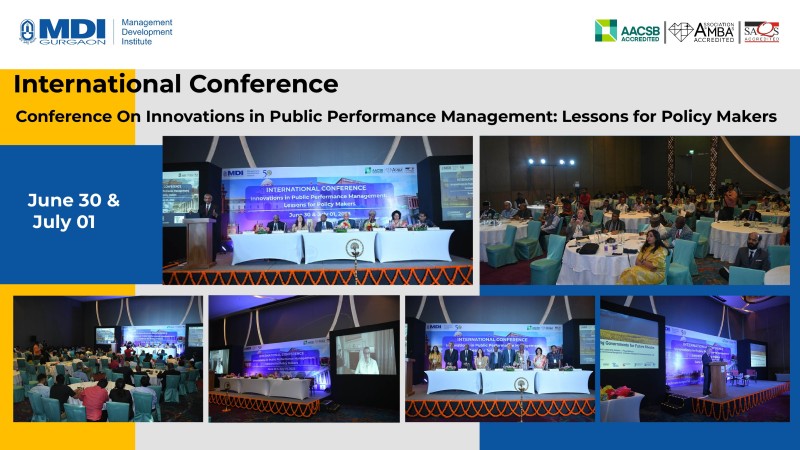 The School of Public Policy and Governance at Management Development Institute Gurgaon organized an international conference on "Innovations in Public Performance Management: lessons for Policy Makers". The conference was organized in partnership with the Commonwealth Secretariat, London; The IBM Center for the Business of Government, Washington D.C; and the National Center for Public Performance, Suffolk University, USA.
"We at the Commonwealth Secretariat are excited to be part of this unique international conference because it is first of its kind and covers areas that are an integral part of our core work in public sector governance. The problems that we see with government inefficiency can be largely traced to poor performance management systems, also known as ineffective governance or weak public management. We therefore need to pay attention to equity as well as efficiency as the two normally go hand in hand. The guiding principle should be to do the right thing and do things right" said The Commonwealth Secretary General Rt Hon Patricia Scotland KC while sharing her valuable insights and views about the conference in a virtual inaugural address.
The inaugural session was graced by the presence of Mr. Rajnish Kumar, Chairman, Board of Governors, MDI Gurgaon, Mr. Vinod Rai (Former CAG, GoI); the Honorable Minister of State for Finance of Maldives – Mr. Ismail Ali Manik, and Dr. Folasade O. Yemi-Esan (Head of the Civil Service of the federation, Nigeria).
"I am delighted to be a part of this remarkable effort by MDI Gurgaon where they have been able to curate 30 sessions in two days with very distinguished personalities participating. It has been an amazing performance on a subject that is very contemporary and requires a great deal of deliberation", said Mr. Vinod Rai, Former Comptroller and Auditor General (CAG) of India.
"The 21st-century business of government has considerably changed from government to governance. We at MDI are working with the Commonwealth Hub for the Business of Government (Hub) and IBM to set up the hub to support the global governance agenda and facilitate government efforts to do business more effectively, efficiently, and equitably. We hope this hub can facilitate access to and utilization of lessons for exchanging experiments worldwide" said Shri. Rajnish Kumar, Chairman, Board of Governors, MDI Gurgaon.
"The landscape of public policy and management has undergone a significant transformation. Today policymakers, administrators, and development experts require to master different skill sets to navigate the complexities of the public sector, devise innovative policy solutions, and lead transformative initiatives. This conference will act as a platform to discuss, deliberate, and learn from each other" said Prof. Sangeeta S. Bhardwaj, Acting Director, MDI Gurgaon.
"The main purpose of this conference is to see how the public sector can perform better. 80 percent of performance output and delivery is determined by the quality of the system in the organization, and only 20 percent by the people. Within this 20 percent; 80 percent by the leader. All you need is a good system with a good leader and miracles can happen" said Prof. Prajapati Trivedi, Distinguished Professor, MDI Gurgaon, and Commonwealth Secretary General's Special Envoy.
Over these two days, leading academicians and practitioners from India and abroad deliberated on several aspects of public performance management. About 130 speakers from all over the world engaged the audience and participants on several aspects of public service delivery and public governance across 30 expert and academic panels. By bringing together experts, practitioners, and stakeholders from various countries and sectors, the conference sought to create a platform for knowledge exchange, sharing of experiences, and collaborative learning on a wide range of topics relating to various aspects of public performance. This conference will act as a platform to build an effective community of thinkers and practitioners engaged, concerned and dedicated to work on improving the performance of their government sector.