MDI Gurgaon welcomes its new 36th Batch of PGDM – BM Programme on 9th August 2023
August 09, 2023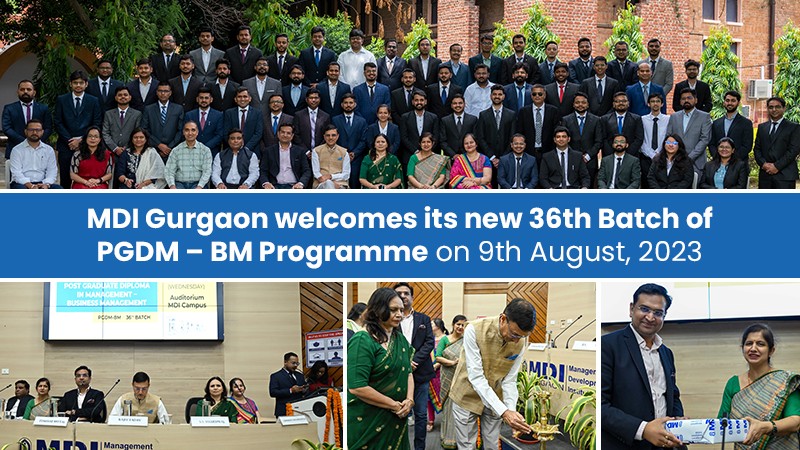 MDI Gurgaon welcomes its new 36th Batch of PGDM – BM Programme on 9th August with pride and warmth. The Inaugural programme commenced with the auspicious Lamp lighting ceremony. This integral occasion was duly graced by respected Chief Guest Shri Rajiv Yadav (IAS, Former Secretary, Govt. of India) and eminent Guest of Honour Shri Tushaar Mittal, Managing Director (Studiokon Ventures) along with our respected Faculty and incoming students.
The students immersed themselves in this opportunity to gain pearls of wisdom shared by these eminent dignitaries & faculty. Prof. (Dr.) Chinmaya Kulshreshtha, Lead EGP, aptly cited a quote by the famous First Lady of U.S.A. Mrs. Abigail Adams "Learning is not attained by chance, it must be sought for with ardor and attended to with diligence" Further, emphasizing upon the deep facet of learning, Prof. (Dr.) Sumita Rai, Dean - Industry Connect, remarked "Learning is a continuous process and the conscious decision taken by the students to commit to the rigour of programme, is a very meaningful & significant decision." Taking the podium next, was respected Acting Director, Prof. (Dr.) Sangeeta Shah Bhardwaj, who encouraged our scholars to learn beyond classrooms, to ignite or perhaps reignite their love for reading and come forth to utilize our state-of-the-art Library aimed to offer a truly conducive environment. Much enlightenment and insights found a way to our participants as the Chief Guests orated some amazing lessons drawn from their personal experiences. Shri Rajiv Yadav warmly shared his all-time recommended Reading List of 7 wonderful books, that were joyfully jotted down by our students. Sir further emphasized the gravity of 'balance' in life with a thought-provoking quote from Bhagavad Gita Chapter 6, Verse 17: Lord Krishna says to Arjuna: "But those who are temperate in eating and recreation, balanced in work, and regulated in sleep, can mitigate all sorrows by practicing Yog." These inspiring words will truly aid our scholars as they take on a rigorous journey ahead. Shri Tushaar Mittal further delighted the young professionals with the cruciality of 3Cs - Commitment, Credibility and Connect, in our lives, that can catapult one's career to greater heights of success. His smart mantra of 'meeting un-purposefully' gave all of us a great takeaway as a secret of success. The event was concluded with a Vote of Thanks by our Faculty-In-Charge Prof. (Dr.) Shiv S Tripathi who further boosted the morale of our young managers and seconded that the risk so taken by them will truly come to fruition in the coming times.
MDI conveys our young future leaders the best wishes as they embark on an enriching journey today.