MDI Gurgaon welcomes its new 2nd Batch of OPGDM Programme on 27th August 2023
August 27, 2023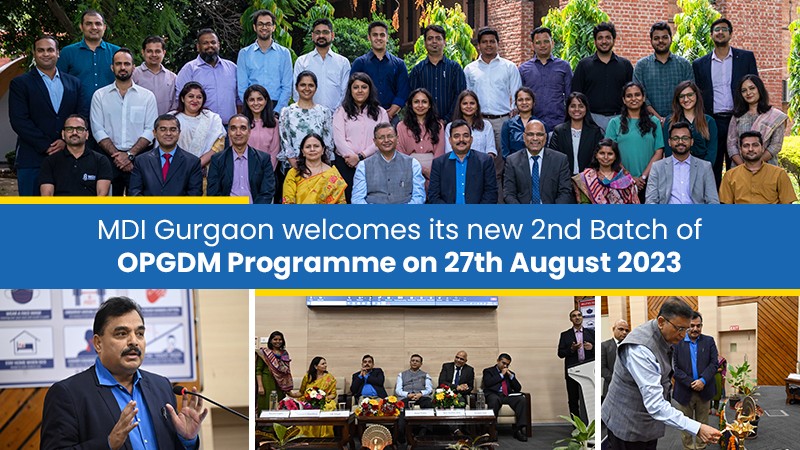 MDI Gurgaon welcomed its 2nd Batch of OPGDM Programme on 27th August, 2023 with pride and warmth. The Inaugural programme commenced with the auspicious lamp lighting ceremony. The occasion was duly graced by distinguished Chief Guest Shri Amal Sinha (Director and Group CEO, BSES Delhi Discoms Ltd.) and eminent Guest of Honour Shri Dr. Vinod Kumar Singh (CEO- Power Sector Skill Council, India), along with our respected Prof. Sangeeta Shah Bhardwaj, (Acting Director),Faculty and incoming students.
The students immersed themselves in this opportunity to gain pearls of wisdom shared by the eminent dignitaries. Prof. Ajay K. Jain (Dean-OPGDM) elatedly welcomed the Chief Guest & GoH whilst sharing with us milestones of their inspiring journeys that has led them to be the industry stalwarts that they are today. Taking the podium next, was respected Acting Director, Prof. Sangeeta Shah Bhardwaj, who extended a hearty welcome to all our participants. She emphasized the Covid era was one of the main catalysts that led the education industry across the globe to accelerate the integration of education and technology. The outcome being, accessibility of quality education to more people even in the most remote geographical places. Prof. Bhardwaj reinstated that MDI, being one of the premier B-Schools, has not only commenced the Online Management programme (OPGDM) efficiently, but we have also instilled the same rigour and quality to our Online programme that is a hallmark of the On-Campus programmes.
Our H'oble Guest Shri Dr. Vinod Kumar Singh shared the awe-inspiring turnaround experience of a public enterprise. He went on to share journey of Power Grid, how it started from a one-room company in 1989 and went on to engage 512,001 MVA Transformation Capacity in 2023. Automation & digitization played a key role in the 'one nation one grid' policy of Power Grid. His mantra for our participants was a simple phrase - 'to add value' wherever one works. The stage was then graced by Chief Guest Shri Amal Sinha who emphasized the importance of 'versatility' that gives one an edge in corporate world. Sir shared a fundamental lesson that he learnt during his early L&T days in Ankleshwar - not to limit yourselves to the functional role you belong to, always look for opportunities as there is learning in everything. He asserted the significance of introspection. Knowing yourself, being yourself & doing SWOT analysis will help young leaders to accept their personality and face challenges in their personal and professional lives.
Prof. NARAIN GUPTA (Lead OPGDM) concluded the event with a Vote of Thanks to our H'oble Guests for sharing their insightful life lessons, and the participants for entrusting MDI with their career acceleration. Prof. Anshul Jain (Faculty In-charge, OPGDM) further expressed gratitude to all our dignitaries for gracing the event.
MDI conveys best wishes to our young futureleaders as they embark on an enriching journey at MDI Gurgaon.