MDI Gurgaon welcomes its 16th Batch of PGDM – Public Policy and Management Programme on 27th September, 2023
September 27, 2023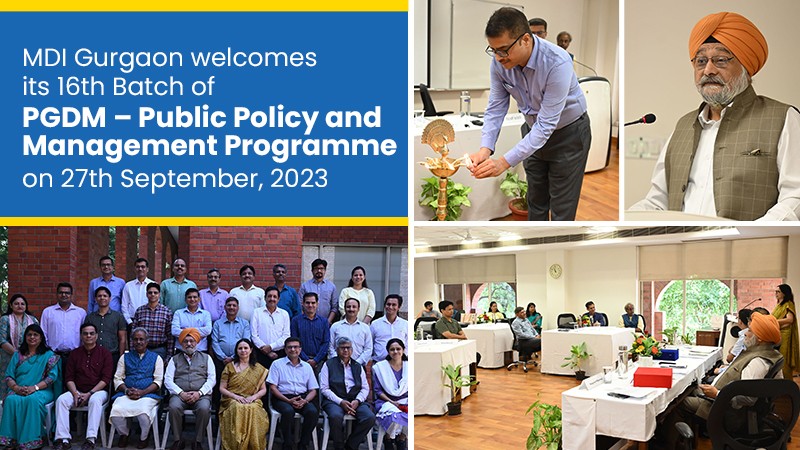 MDI Gurgaon welcomed its 16th Batch of PGDM – Public Policy and Management Programme on 27th September, 2023 with pride and warmth. The inaugural programme commenced with the auspicious lamp-lighting ceremony. The inaugural address was delivered Chief Guest Shri Dr. Nirmaljeet Singh Kalsi IAS (retd) – Chairperson, National Council for Vocational Education & Training, Ministry for Skill Development & Entrepreneurship,GoI, along with our respected Prof. Sangeeta Shah Bhardwaj, (Acting Director), Faculty and incoming students.

Prof. Avanish Kumar (Dean – School of Public Policy and Governance) welcomed the Chief Guest, esteemed Faculty and our dynamic participants. Prof. Kumar, with much candour, acknowledged how in the last 16 years more than 250 participants have given up their 'power of corridor' to immerse themselves in the PGDM-PPM at MDI. He further shed light upon the three critical components of the program, Classroom learning that builds upon exchange of experience and evidence, rural immersion as a process of reflection and realization, and policy paper that entails the opportunity to articulate alternatives to make the public system more effective and efficient. A distinguished Public Policy Alum and a senior government officer, Dr. Brajesh Mishra, drew a parallel between our scholars' upcoming endeavour with the great Swami Vivekanand's lore where Swami ji was initially reluctant to meet Sri Ramakrishna Paramhans, but eventually a gluttony desire of sweets led him to a major life transformation.

Acting Director, Prof. Sangeeta Shah Bhardwaj, further extended a hearty welcome to all. She shared the uphill journey of this unique programme and the grind that actually led to this day's success. She shared about recent initiatives of the School of Public Policy and Governance. Dr. Nirmaljeet Singh Kalsi took this opportunity to welcome all and to shed light on India's growth and role of decision makers. He fervently shared the astronomical velocity of business we all witness today owing to Digital Public Infrastructure i.e. UPI framework. He shared his views on the imperativeness of National Credit Framework (NCrF), on embedded programs and the pivotal Karmayogi Bharat GoI initiative – how these in correlation drive change from the core. He further advocated the importance of peer-learning in such pedagogic experiences.

Prof. Dr. Vishal Narain (Professor of Economics and Public Policy, MDI) concluded the event with a Vote of Thanks to our H'oble Guests sharing their insightful experiences and advice. He further expressed gratitude to the participants for entrusting MDI with their career acceleration.
MDI conveys best wishes to our young future leaders as they embark on an enriching journey.