MDI Gurgaon, PRMIA on path to collaboration
May 07, 2022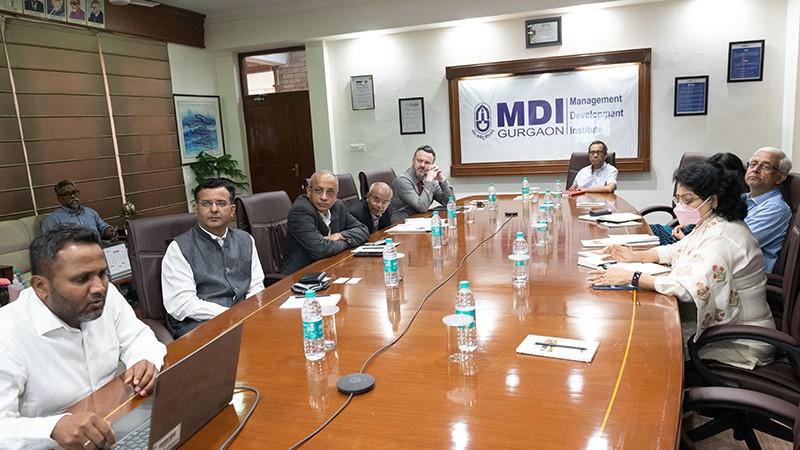 GURUGRAM: A delegation of the Professional Risk Managers' International Association (PMRIA), led by its CEO Justin C. McCarthy, visited Management Development Institute (MDI), Gurgaon, May 6 to discuss the way to a future collaboration between the two sides.
The PMRIA delegation held talks with MDI Gurgaon Director Dr. Rajesh Chakrabarti and Deans. The discussion was about a possible future collaboration between the newly-launched School of Management of Financial Institutions, MDI Gurgaon, and PRMIA to work in the domain of financial risk management and governance.
"It was a privilege to host the PRMIA leadership team on MDI campus on May 6 as an initiative of the new School of Management of Financial Institutions," Dr. Chakrabarti said after the meeting. "Risk management is a key part of the managerial skill-set and the two institutions shall explore ways to give the best access to it to the MDI community."
Northfield, Minnesota-headquartered PRMIA is a non-profit, member-driven professional organisation that focuses on the development and education of the risk management profession. It offers the Professional Risk Manager (PRM) designation and several other certificate programmes for professional certification purposes.
PRMIA CEO McCarthy said that the collaboration between his organisation and MDI Gurgaon will be useful in terms of learning what is happening in this sector in India.
"For teaching and for students, it could be possible that those who complete an MDI qualification will be exempt from our flagship exam, the PRM," McCarthy said. "So, that will not only help with the careers of students here but will also allow them to pick MDI as the ideal place to study finance and the risk. I hope to see this collaboration to become formal that will continue long into the future."
He also that with India set to become an economic powerhouse of the world, PRMIA wants to be a part of that process by making risk management a growing profession.
"People here want look to PRMIA to be their partner in that whether it is with our certification, by joining online in our webinars or studying for our Professional Risk Manager designation which we hope will be done in collaboration with MDI," McCarthy said.
MDI Gurgaon has been a trendsetter in the field of management education, consulting, high quality research and executive development. The institute has the distinction of being the first internationally accredited Indian business school having received international accreditation by Association of MBAs (AMBA) London in 2005. It was accredited by South Asian Quality Assurance Systems (SAQS) in 2006. In 2021, the Institute earned accreditation from the AACSB International, the world's largest business education alliance.