Humbition. HUL CEO and MD introduces MDI students to new word
June 16, 2022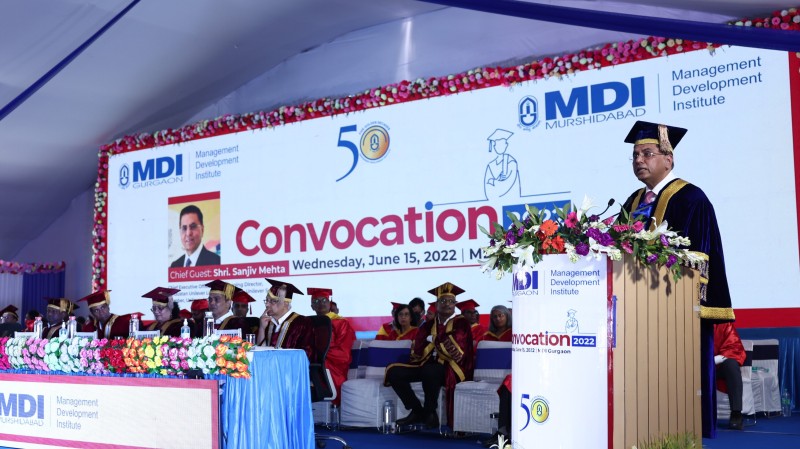 Addressing the joint annual Convocation Ceremony of Management Development Institute (MDI) Gurgaon and Murshidabad as the chief guest, Sanjiv Mehta, CEO and Managing Director of Hindustan Unilever limited, urged the graduating students to temper ambition with humility.
"Be boldly ambitious, but stay grounded," Mehta said in an exhilarating Convocation Speech June 15. "When you have that ambition, you are not limited by the resources. Ambition is the single most important ingredient for success. As it overrides battalion and resources, ambition can lead anyone to triumph regardless of what is put in front of them. And when humility is intertwined with ambition, then you have a very potent combination. I call it humbition."
This was one of the seven life lessons he shared with the graduating students.
Mehta started off by telling students to always do the "harder right than the easier wrong".
In the Convocation Ceremony, 514 students from various PGDM programmes and eight Fellow Scholars of MDI Gurgaon received their diplomas. Twenty-four medals were awarded to meritorious students of different courses. From MDI Murshidabad, 132 students from the PGDM 2020-22 batch were conferred their diplomas.
"Always do the harder right than the easier wrong," Mehta exhorted the students. "Don't give in to your fears. If you do, you won't be able to talk to your heart. If you're following your heart and you're not breaking the law. Don't be afraid to challenge the societal norms Follow your passion. When people think you should play it safe, don't worry about it. When the crowd goes one way, you could well go the other way. If it feels right, go with your gut."
The second lesson he shared was to lead a life of purpose
"Aim is a crime in greater terms," Mehta said. "It is glorious even to fail. It does not matter how many times you fail. What matters is the resilience you demonstrate by bouncing back from failures. The lesson is to lead a life of purpose. It is important for each one of us to have a higher purpose that goes beyond making money."
Lesson number three: never stop learning.
"Reinventing oneself over and over again is extremely important," the HUL CEO and MD said. "Einstein had said intellectual growth should commence then. Learning does not come to an end with your graduation today because life will never stop teaching a good education like you get an MBA teaches you what to learn and how to learn the lesson."
Mehta's fourth lesson was to build relationships that last long.
"We can do so little together," he said. "Helen Keller said it, and it is indeed one of the biggest learnings I've had in my career for success is not just about being brave. It is about being brave together. Some of the challenges that confront humanity today are too big for any of us."
The fifth lesson Mehta shared was to listen to the chaos, saying "it does make sense".
"The last few years have also taught us that as leaders, we need to adapt to new situations and always embrace change," he said. "It is also important to realize more than ever before that there may be no playbook for every crisis that you may confront.
We need to have the ability to pull together disparate views of a situation to create a plausible understanding of the complexity around us, and then test that understanding to refine it as necessary. Abandon it or start over. This is called sense making."
Then came his lesson number six: humbition.
"Whatever heights you achieve in your professional career, always remember the house number that you came from," Mehta, who is also President of the Federation of Indian Chambers of Commerce and Industry (FICCI), said. "Always remain true to your roots. Putting yourself out there can be tough, but remaining authentic, even tougher. But never, ever waver.
The seventh lesson he shared was to create value.
"Create value and valuations will follow irrespective of whether you decide to join an organization or set up your own venture," he said. "Remain consumer centric. Consumer love. And we will always remain relevant by truly understanding the people we serve so that we can anticipate and meet the needs from triggers to influence to action. If you lose the sense of consumers, then you miss the game altogether. When value creation happens, valuations do follow."