Book Launch Event
December 05, 2022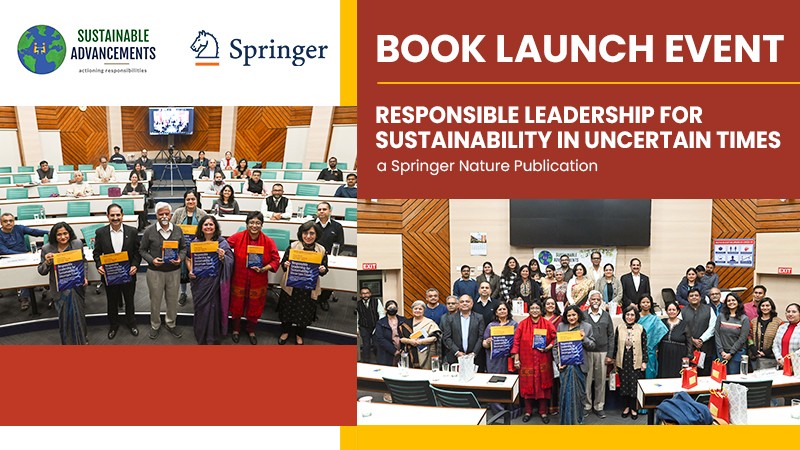 On 5th December 2022, the Centre of Excellence in Ethics, Responsible Leadership, and ESG Initiatives (CERO) at MDI Gurgaon, launched a book published by Springer Nature on "Responsible Leadership in Uncertain Times". The event took place at MDI Gurgaon in Hybrid Mode. Prof. Meeta Dasgupta of MDI Gurgaon welcomed the guests on behalf of CERO.

The series editors Dr. Nayan Mitra, President of Sustainable Business Council (SBC) of Women Indian Chambers of Commerce and Industry (WICCI), and Prof. René Schmidpeter (virtually) were present on the occasion. Dr. Nayan Mitra spoke about the relevance of the series on Responsible Leadership and Sustainable Management. The editors of the book Prof. Tanuja Sharma and Prof. Rupamanjari Sinha Ray of MDI Gurgaon and CERO spoke on Responsible Leadership and the relevance of it in times of uncertainty when challenges are enormous. Prof. Rajen Gupta, former Professor at MDI Gurgaon and eminent Scholar in the field of Organization Behaviour, unveiled the new book. It was a moment of pride for CERO because within a year of its launch, it came up with a very relevant event. The keynote address was delivered by eminent scholar in the field of CSR and Sustainability, Prof. Edward Freeman, who emphasized on the importance of Sustainability and the success of it lying in Responsible Leadership. While writing the Foreword of this book, Prof. Freeman recalled how each theme and chapter, he felt, are going to enrich students and researchers in the field of Sustainability. The book is classified into three sections: Responsible Leadership: Past Discourse and Present Scenario; Social, Environmental and Economic Challenges; and Case Studies.

There was a Panel Discussion on Author's talk, where 11 authors, who are Academicians, Practitioners and Policy Makers, spoke about the content and significance of their chapters. Interesting research studies on Invisibility of Migrant Workers, Concept of Circularity, Sustainable transformation, Agile Decision Making, Social Capital, SMEs in India, Climate change risks, ESG, Carbon Credits, Cases of Responsible Leadership are covered in this book.