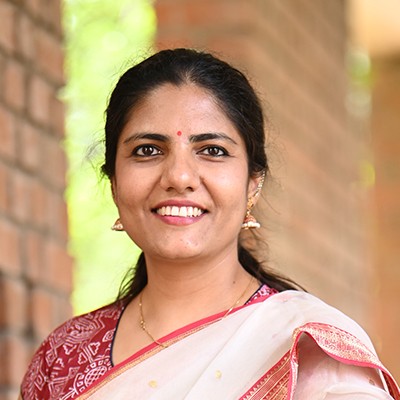 Profile
Dr. Vidhu Gaur is an MBA and holds Doctorate Degree in English Literature from University of Kota, Rajasthan. She also holds a Post Graduate Diploma in Communication Management from ISC Pune. She is a certified Soft Skill Trainer and a Life Member of Indian Society of Training & Development, Bangalore Chapter. She has more than ten years of experience in teaching Communication and Soft Skills. She has both critical and creative writings to her credit published in reputed journals and leading newspapers. She has published one book with ISBN and has more than two dozens of Research Papers to her credit. She has presented Papers in National and International Conferences in India including prestigious institutes like IIM Bangalore, IIT Delhi & Curtin University, Australia. She is on the editorial board of many International journals and reviews case studies, research papers and chapters of books published by renouned houses.
Area of Interest
Her main areas of interest and specialization include: Communication, Business and Managerial Communication, Corporate and Reputation Management, Digital Communication, Soft Skills, and Personal Effectiveness, Management and Spirituality. As a professional speaker and corporate trainer she has motivated and educated hundreds of students of both academic and management fields and people of industry in various states of India.
Industry Experience
She has industrial experience in corporate communication where she worked as a Senior Editor of a bilingual magazine of pan India presence. She was a part of planning of many promotional tools in digital promotions including website content enrichment. She has worked in advertising agencies like Mudra Communications, Ahmedabad, Mak Media Creations, Pune, Asymmetric Advertising, Bangalore, Hanmer and Partners, Ahemdabad and possesses a cross dimensional exposure in strategizing above the line and internet advertising also with reference to content and copywriting. She has handled FMCG like Wagh Bakri Tea group, Nilons Pickles, Adani Retail Chain, Livon and Recova (Paras Group), Wipro's Marketing Sales Kit etc. She has delivered corporate presentations and conducted workshops on 'Evovled Communication' in MNCs like Caterpillar Logistics, Bangalore.
Experience at MDI
Working as an Assistant Professor at Management Development Institute, Gurgaon for last three years in the area of Business Communication, she also works as Programme Director in conducting four open programs at MDI campus titled Developing Communication Competencies, Communication Strategies for Effective Employee Engagement, The Art of Successful Leadership and Management, and The Art of Successful Management: A communication Perspective. She is actively involved in institute's other activities also like Warden of Girl's Hostel, Admission & Induction processes, guiding PhD scholars, reviewing case studies & research papers. She is on the Board of Examiners at MNIT Jaipur and examined a PhD thesis of the institute. The case study on MDH by her & Prof. Neera Jain of MDI was awarded the best case paper. Recently, she presented a research paper at the University of South Australia at Adelaide conducted by Australian Centre of Asian Business & MDI.
Workshops & Programs
1. Workshop on Development of Communication (Developmental Programme – Content, Creation and Communication including Success Stories) for Prasar Bharati, India's Public Service Broadcaster, National Academy of Broadcasting and Multimedia, Delhi.
2. Workshop on the Development of Communication & Soft Skills at the Department of Management Studies, MNIT Jaipur.
3. Faculty Development Program (FDP) for Management Education and Research Institute, New Delhi on Effective Communication.4. Faculty Development Program (FDP) for The Oxford College of Engineering, Bangalore.
Awards
1. She has been featured in the Women's Diary as a Passionately Inspirational Woman.
2. She was awarded by the Home Minister of Govt. of Rajasthan for being involved intensely in social activity of developing female children of Kota Rajasthan.
3. She has been certified as Spiritual Coach & Practinioner at Gurgaon.
Training and Consulting
She has received accolades for conducting soft skills and communication training sessions for Indian armed forces (Army, Navy and Air Force), Ministry of Finance, Kabul (Afghanistan), Executives of National Savings Bank, Sri Lanka, Power Grid Corporation of India Limited (PGCIL), Bureau of Police Research and Development (New Delhi, Indore, Assam, Hazaribag, Sira), Commandants & DIGs of Border Security Forces, India, Ministry of Defense, Government of India, Directorate Defense Estates; I.G. of Police, Central Reserve Police Force, DIGs Central School of Weapon & Tactics and Central Bureau of Investigation; Indian Railway Personnel Services Executives (IRPS, Programme on Human Resource Management); Reserve Bank of India, Central Office Building, Mumbai; Hero Future Energies Ltd., New Delhi; Escorts Limited, Chambal Fertilizers Chemical Ltd. Tata Power-DDI, Lutron Electronics (Hospitality Management), Gurgaon; General Managers of National Bank for Agriculture and Rural Development (NABARD), Aforeserve.com Limited, Jindal Stainless Steelway Limited, RiTES Limited, VE commercial Vehicles Ltd., Nokia India Sales Pvt Ltd., Bharat Dynamics Ltd., India, Administrative Officers of Agriculture; Insurance Company of India, CELEBI Delhi Cargo Terminal Management India Pvt. Ltd., Claris Lifesciences Ltd.,Claris Outsuka Private Limited, Claris Injectibles Limited, Ahemedabad; Tamil Nadu Newsprint and Papers Ltd., Executives of Bharat Electronics Limited, India, Johnson & Johnson, WSP Consultants India Ltd., Orient Craft Limited, Woodward India Pvt. Ltd., Gujarat State Petronet Ltd. (GSPL) India Transco Ltd., Petronet LNG Limited, New Delhi; GSPL India Gasnet Limited, JSW Energy Limited (Rajasthan and Karnataka), Sentiss Pharma, Gurgaon; Women Scientists/Technologists in Advance Techno – Management Program" under the "Disha Program for women in Science" scheme by Department of Science & Technology, Gas Authority India Ltd. (Middle and Senior Level HR managers, GAIL), Bharat Oman Refineries, Distt. Sagar, M.P, Life Insurance Corporation of India, Delhi also Divisional Office, Jalandhar, Punjab; Room to Read India Trust (Accounting Associate, Financial Analyst, HR Officer) Bharat Petroleum Corporation Ltd., Mumbai, DRDO Executives, India; Pernod Ricard India (P) Ltd. (for PRIME for Grade 5 Executives), Managerial Development for Lumbini Bank Limited, Lalitpur; Executive Development Programme for Scale- IV Officers of Oriental Bank of Commerce, Executive Development Programme for Newly Promoted Assistant General Managers of Bank of Baroda at MDI.