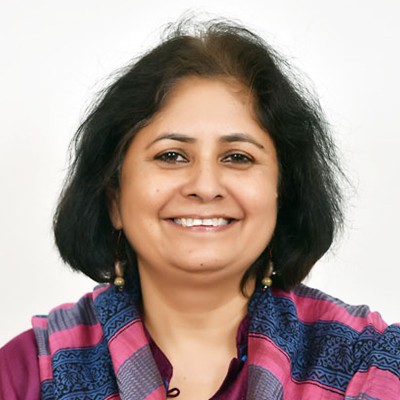 Profile
Ph. D. from Faculty of Management Studies¸ Univ. of Delhi¸ titled "Role of Performance Management Systems for Attaining Quality"
MBA (HR Specialization)¸ B. Sc. (Bio. Group)¸ Univ. of Allahabad.
Basic Training in Transactional Analysis¸ TACET¸ New Delhi
Training in Counseling Skills¸ Sanjeevani (NGO)¸ Qutub institutional Area¸ New Delhi.
Prof Tanuja is with MDI since March 2011 . Prof Tanuja had been with MDI during the period from December , 2005 to November 2009
Experience:
Social initiatives & Involvement; She has actively partnered/ supported in social work by associating with NGO's such as SOS Village¸ Goonj ¸ Hriday Shan¸ Manzil¸ Muskan¸ the YP Foundation and Gandhi Darshan Samiti¸ New Delhi. She has been coordinator Women's Development Cell¸ constituted by Delhi Government for women students in higher education and Chairperson-Committee against sexual harassment (CASH) and Gender Sensitization in S. S.C B S¸ Delhi University. She has designed Social Auditing procedure for minority primary schools for an Aga Khan foundation Project.
Teaching Performance Management System¸ Compensation Management and International Human Resource Management in MDI using innovative methods.
15 years of teaching experience in BBS program by Delhi University¸5 years of Industry experience in both private and public sectors.
Training Experience-Top/ Senior managers from RBI¸ SBI¸ Bank of Baroda¸ Maruti Udyog Limited¸ Baxter. Executives from ONGC¸ IFFCO & National Institute of Aviation Management-Training institute for International Airport Authority of India. Open MDPs in MDI¸ Gurgaon and IIC¸ New Delhi.
Workshops in Transactional Analysis and communication skills for university students.
She has been associated with admission¸ examination and evaluation in MDI and DU.
She has been member¸ Selection Committee for lecturers and member¸ Governing Body in SSCBS¸ University of Delhi.
Awards & Honors:
Mercer Award Asia 2005 is given by Mercer Human Resource Consulting¸ Singapore for innovative¸ practical Asian Human Resource Research.Her Report on "Linking Performance Management Practices¸ Service Climate¸ and customer perceptions of Service Quality" was one out of two short-listed researches for cash prize (US$2¸000) and certificate.
Areas of Interest:
Performance Management System
Compensation Management
HR as Service concept
Societal HR
Self development and communication
Published work:
Papers Presented in international conferences include a paper on "A comparative Audit of Performance Management System of selected banks in India and its contribution in delivering quality service to its Internal and External customers". in 21st workshop on strategic human resource management¸ Aston Business School¸ Birmingham¸ 2006 & "Service Quality & HR perspective" in Tenth Quality in Services Symposium (QUIS 10) Orlando¸ Florida¸ 2007. Paper published in seminar proceedings.
Other publications include:
Papers in Journal of Applied Management and Entrepreneurship¸ Florida¸ Vilkalpa¸ IIM Ahemdabad¸ and Management Review¸ IIM Bangalore.
Mercer Human Resource Consulting¸ Singapore¸ A report on "Linking Performance Management Practices¸ Service Climate¸ and customer perceptions of Service Quality". Short listed for Asia Merceraward 2005.
Book Chapter on Performance Management Systems in India (March/ April 2008). "Performance Management Systems Around the Globe" by Dr. Arup Varma¸ Institute of Human Resources & Industrial Relations¸ Loyola University Chicago¸ U.S.A¸ Dr.Pawan S Budhwar¸ Aston Business School¸ Aston University¸ Birmingham¸ United Kingdom¸ and Dr. Angelo DeNisi¸ Dean¸ A.B. Freeman School of Business¸Tulane University¸ New Orleans¸ U.S.A.¸ (Eds); This edited volume will form part of the Global HRM Series (Edited by Randall Schuler¸ Paul Sparrow¸ Susan Jackson and Michael Poole). Rutledge Publications.
General Editor¸ "Managing Organizational Behavior in Asia". Oxford Fajar Sdn. Bhd. (a subsidiary of Oxford University Press¸ Malaysia). A localized text book for undergraduate students pursuing BBA in Malaysian University. (Under process-to be printed by March 2009).
Book Reviews: Strategies for Performance Management by Dinesh K. Srivastava¸ Organization Change and Development by Kavita Singh and Creativity @ Work by S. Ramachander in Vision-an MDI journal.
Her consulting experience include Cairn Energy , Petronet Dahej and Kochi plants for managerial performance and compensation orientation, Railways (IRFC); Project on organization structure , HR functions and HR Manual. Hindustan Copper Ltd.- on Impact assessment of their CSR Projects. DSIDC, Delhi HR planning , Welspun Group; for creating Role Directory HR orientation for performance and Compensation Management in DSCL, Delhi, Petronet LNG- Kochi and Dahej Plants, Aviva Life Insurance & Baxter India.
Main domains of consulting are Human Resource Design¸ Creating role directory¸ Performance Management System¸ Compensation Management.
Organizations consulted :Welspun Gujrat Stahl Rohren Limited¸ India.