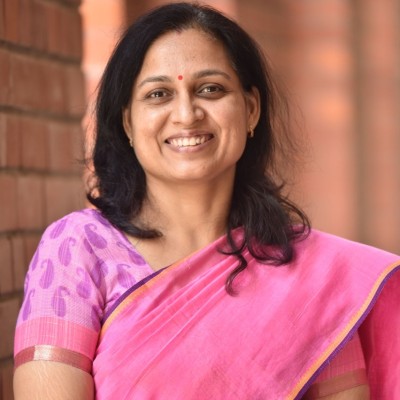 Profile
Prof. Ritu Srivastava is a Ph.D. in Marketing Management. The topic of her thesis is Evaluation of Relationship Marketing in Financial Services in India. An academician by heart, Prof. Srivastava firmly believes that management education goes beyond classroom and includes various components on industry interaction, social outreach and research and development. She has nine years of experience across education and industry cutting across teaching, research and consulting activities.
Experience:
Teaching – 20+ years (Marketing Management, Services Marketing, Retail Marketing, International Marketing, E Business, Communication)
Areas of Interest: Services Marketing, Strategic Management, Educational Planning and Administration
Awards
Recipient of National Technical Teacher Awards (Management Category), 2022
Award for excellence in Teaching at MDI Gurgaon, 2021-22
Award for excellence in Teaching at MDI Gurgaon, 2019-20
Rank Holder in Master of Corporate Management Course
Best Paper; International Marketing Conference Fore School of Management; "Reinventing Marketing for Emerging Markets" Nov 28-30, 2013.
Best Paper; National Seminar on Rural Marketing at College of Agribusiness Management, G.B. Pant University of Technology and Agriculture, Pantnagar. March 2005.
Post Graduate programmes: Marketing Practices and Implementation, Retailing and Franchising, Service Quality
Executive Education: Advertising Management, Integrated Marketing Communication,
Public Policy Marketing
International Marketing
Research
Srivastava, R. (2022) Marketing at the bottom of the pyramid: A systematic literature review to set the research agenda. Academy of Marketing Studies Journal, 26(4), 1-18.
Kumar, H. and Srivastava, R. (2022), "Exploring the role of augmented reality in online impulse behaviour", International Journal of Retail & Distribution Management, Vol. ahead-of-print No. ahead-of-print. https://doi.org/10.1108/IJRDM-11-2021-0535
Srivastava, R., & Gupta, P. (2021). Research on unhealthy food and beverages advertising targeting children: Systematic literature review and directions for future research. Australian Journal of Management, 031289622110595. doi:10.1177/03128962211059579
Srivastava, R. & Srivastava, V. (2021). A Study of Buyer Motivations at the Bottom of Pyramid in Urban India. Vision - The Journal of Business Perspective, https://doi.org/10.1177/09722629211051441
Srivastava R., Banerji D., Nema P. and Chowdhary S. (2021). Perceived risk: A new way of Engaging Customers and Employees for Value Creation in Services. Vision
Gupta P. And Srivastava R. (2021). Research on Social Enterprises from an Emerging Economy- Systematic Literature review and Future Research Directions. The Journal of Social Entrepreneurship https://dx.doi.org/10.1080/19420676.2021.1974926
Gupta A., Sharma K. & Srivastava. R. (2020). The Role of Limited Resource Model (LRM) of Self-Control in Health-Oriented Behaviors: A Systematic Review and Future Research Agenda Vision
Banerjee S. & Srivastava R. (2019).Exploring Export Potential of Indian Movies: A Comparative Advantage Analysis of the Indian Film Industry The Great lakes Herald, Vol 13, No. 1
Srivastava. R. (2017) Book Review: David Aaker, Aaker on Branding: 20 Principles that Drive Success, Vision, Vol. 21 issue: 3, August 2017
Srivastava R; Understanding the Customer Value Enablers for retail Formats, Pratibimba, Vol 16, No. 1, Jan-July 2016
Srivastava R and Saxena S; Private Label Perception of Customers: Effects of Socio Demographic Variables, Management Insight, Vol 11, No. 2, December 2015
Srivastava R;Private Label Motivators and Product Category Association: An Empirical Study, Ushus - Journal of Business Management. Christ University, Bangalore, Vol. 14, N0. 3,July-December 2015
Srivastava R; Exploring Product Category and Promotion Type Association for Impulse Buying in Malls in India, Abhigyan, Vol.31No.3, Oct-Dec 2013
Srivastava R; The Role of Front Line Service Employee in Select Service Industries in India, Ushus - Journal of Business Management. Christ University, Bangalore Oct - Dec 2013
Srivastava R; Book Review; Management Essentials: A Recipie for Business Success, Vision Vol 18, Issue 1, March 2014
Srivastava R; Motivators for Online Retail in India: Closing the Gaps, Pratibimba, Vo 14, Issue 2, July-December 2014
Srivastava R; Customer Satisfaction-Loyalty link in Indian Online Retail, Management Insight, Vol 10, Issue 2, December 2014
Srivastava R; Employee Actions that lead to Customer Satisfaction: services revisited in India, 2014, Academic Reference Series –Reinventing Marketing for Emerging Markets, Bloomsbury India, 2014
Srivastava R; The business case for Social responsibility in India, Center for Education Growth and Research Newsletter, Vol II, Issue III, 2013
Srivastava, R., Why does the service hurt? Doctor, 2012 European Case Clearing House
Srivastava, R., Skill Oriented Vocational Education In India: Assessing The Case Of Downstream Plastic Processing Sector Using The Service Quality Framework, September 2011, International Journal Of Business Economcs and Research, Vol2, Issue 1. February 2012.
Srivastava, R., Responsible Management Education For The Globalized World: Question Or Question Mark?, February 2011 AIMA Journal of Management and Research, Volume:5 Issue:4
Srivastava, R., Managing Turnaround And Transformation: The Tata Motors Way, Excel Books, 2007
Srivastava, R., Rural India: Collaborating For Overall Economic Development, Kurukshetra, Volume 54, No. 8, June 2006
Srivastava, R., Voicecom Mobile Communications, Management Today, Volume 5, Issue1, February 2005
Srivastava, R., Relationship Marketing: The ICICI Way, Management Dynamics, Vol. 5, No.1, 2005
Books
Srivastava. R. (2019). Decoding Customer Value at the Bottom of the Pyramid: An Urban India Marketing Perspective. Business Expert Press (Reference)
Srivastava. R., Chatterjee P., Berman. B., and Evans. J.R. (2017). Retail Management: A Strategic Approach, 13th edition. Pearson India
Cases
Absar, M.M.N., Akhter, S. and Srivastava, R. (2022), "BSRM Steel, Bangladesh: growing from building safety to caring hearts", Emerald Emerging Markets Case Studies, Vol. 12 No. 2. https://doi.org/10.1108/EEMCS-10-2021-0324
Krishna N., Srivastava R. and Gupta P. (2020). OLA (INDIA): Building Customer Loyalty to App-Based Services, Ivey Publishing
Absar N., Akhtar S. & Srivastava. R. (2020). Leadership through Differentiation: Hero's Journey with Niloy Motors in the Motorcycle Industry of Bangladesh, Emerald Emerging Markets Case Studies
Srivastava. R & Yadav. Y. (2020) Retail Post COVID Growth Strategy – Is Omni Channel the Way?, Emerald Emerging Markets Case Studies
Jain. M. & Srivastava. R. (2020). Advertising and Branding: It's Different, Emerald Emerging Markets Case Studies
Mangla. A &Srivastava. R. (2019). Sukhpal Dairy Farm: Considering Customer Engagement-Based Growth Options, Emerald Emerging Markets Case Studies
Pradhaan B, Srivastava R and Dasgupta M. (2018). NUKKAD, THE CHAITASTIC TEAFÉ: CONSIDER EFFICACY IN GROWTH OPTIONS, Ivey Publishing
Srivastava R, Prashar A and Bhardwaj P.(2018) Tashn.com: Developing Merchandising for a Competitive Advantage, Ivey Publsihing
Book Chapters
Srivastava, Ritu. (2018). Customer Expectations at the Urban Bottom of Pyramid in India: A Grounded Theory Approach. In Rajagopal & Behl, Ramesh. (Eds.) Business Governance and Society Analyzing Shifts, Conflicts, and Challenges.(pp.55-73). Cham : Springer.
Social Media Engagement and Return On Engagement Contemporary Issues in Social Media Marketing. 2018. Taylor & Francis
Srivastava, R. And Prashar A. (2018), Tashn.com: Building Merchandising as a source of competitive advantage; Marketing in the Next Decade, Excel Publishers
Srivastava R; Employee Actions that lead to Customer Satisfaction: services revisited in India, 2014, Academic Reference Series –Reinventing Marketing for Emerging Markets, Bloomsbury India, 2014
News Paper Articles
Srivastava, R., 2021, "Skill Refinement Through Hybrid Learning", http://bweducation.businessworld.in/article/Skill-Refinement-Through-Hybrid-Learning/28-05-2021-391283/
Srivastava, R., 2020, "Impact on the retail industry- Unlock 1.0" https://www.indianretailer.com/article/whats-hot/trends/unlock-1-0-impact-on-the-retail-industry.a6609/
Srivastava, R., 2019, "Need for continuous learning in the life of a working professional " https://www.indiatoday.in/education-today/jobs-and-careers/story/need-for-continuous-learning-in-the-life-of-a-working-professional-1610232-2019-10-17
As a management practitioner I been working closely the Indian services sector including Telecom, Banking and Retailing across marketing functions including Communication Strategies. She has successfully conducted programmes for organizations such as Vodafone, Bharat Electronics Ltd., Indian Oil Ltd., Indian Armed Forces, DGET and LIC (India). She can develop customized training programmes in the areas of;
Service Excellence
Customer Relationship Management
Marketing Communication including New Age Media
Preparation of Long Range Plan for Corporate Social Responsibility in EdCIL
ADB Loan Project; ICT in Basic Education, Uzbekistan, for Government of Uzbekistan
DPR for Establishment of National Education Finance Corporation, Ministry of Human Resource Development, Government of India
DPR for Upgradation of Delhi Institute of Tourism and Travel Management, Delhi Travel and Tourism Development Corporation
DPR for Upgradation of Cotton College, Government of Assam
DPR for Establishment of Women's University, Government of Assam
DPR for Establishment of IB School in Maharashtra
DPR for Establishment of DAV University at Greater Noida
Evaluation Study of Japanese ODA Loan fro Scholarships for Ministry of Human Resource Development, Government of India
Development of a Strategy for Development of International Training Partnerships with The Foundation for Education Partnerships (TFEP), U.K.
Expansion of Film and Television Institute of India, Pune for Ministry of Information and Broadcasting, Government of India.
Preparation of Service rules, Acts and Statutes for Deenbandhu Chotturam University of Science and Technology, Haryana
Converting Indian Institute of Mass Communication into an International Media University, New Delhi for Ministry of Information and Broadcasting, Government of India
Feasibility Study for Development of a Suitable Course Curricula for Development of Low End Skills in the Downstream Plastic Processing Sector for the Ministry of Chemicals and Fertilizers
Feasibility Study on 'Scheme of National Awards for Technology Innovation in Various Fields of the Petrochemicals and Downstream Plastic Processing Industry'
DPR for Establishment of Bajaj International University for Bajaj Allianz Group
DPR for Establishment of Women's Open University in the State of Haryana for BPSMV
DPR for Establishment of Indian Institute of Corporate Affairs for the Ministry of Corporate Affairs