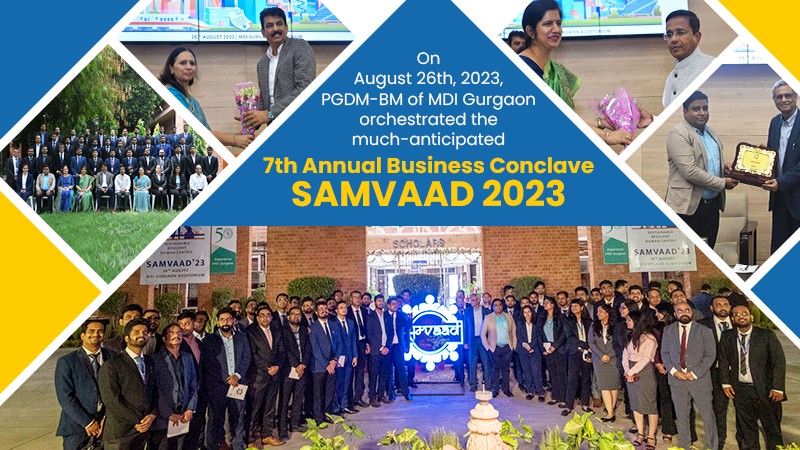 Samvaad'23
August 26, 2023 | 09:00 AM
The 7th Edition of Samvaad 2023 unveiled at MDI Campus on 26th August and this year's discussion revolved around the theme "Transitioning India from Growth Leader to World Leader." 'Samvaad' is a business colloquium organized by the participants of the PGDM-Business Management program (erstwhile NMP) at MDI Gurgaon annually. It is an exceptional platform of panels for sharing ideas among leaders from various domains across the country and focuses on providing a unique opportunity to the participants to gain insights into strategy, leadership, and innovation. |

Every year, the panels proudly host industry stalwarts, leading entrepreneurs, leadership gurus, and academicians who share their valuable insights with the participants. The 7th Edition aimed at exploring the pivotal role of leadership, innovation, and collaboration in India's journey toward global prominence. The dynamic symposium was graced by distinguished leaders- Mr. Rajesh Magow, Co-founder & Group CEO of MakeMyTrip and Mr. Gopal Chandra Sikder, Senior Executive Vice President at Reliance Industries Limited. Mr. Sikder is also an alumnus of MDI PGDM-BM programme. The valedictory session was conducted by Mr. Veer Sagar, Chairman of Selectronic. The event was duly graced by Prof. Sangeeta Shah Bhardwaj (Acting Director of MDI), Prof. Sumita Rai (Dean-IC), Prof. Dr. Chinmaya Kulshrestha (Lead-EGP & Lead-Marketing Area) and Prof. Shiv S Tripathi (Faculty In-charge, PGDM-BM).

The audience experienced insightful 4-Panel discussions on cutting-edge domains. Each discussion was moderated by a faculty member, followed by a Q&A session. The Panel topics were - Panel 1: Embracing Digital Ventures for Market Expansion, Panel 2: Unlocking India's Sustainable Finance and Investment Future, Panel 3: Leveraging Analytics to Drive HR Strategy and Panel 4: Transitioning into Industry 5.0. The leaders seating the panels were: Saurabh Bhandari, Nimisha Singh, Namrata Nath, Deepanshu Sachdeva, Amitesh Srivastava, Abhishek Kumar, Shantanu Srivastava, Rohit Kumar, Dharmender Jhamb, Sishir Garemella, Bineet Ranjan, Shivani Singh, Gandharvi Nadkarni, Abhishek Tiwary, Ramesh Kumar, Puneet Gupta, Gaurav Bhandari and Amarpreet Singh. The discussions were moderated by MDI faculty namely, Dr. Anurag Singh Chauhan, Dr. S. Veena Iyer, Prof. Ajay K. Jain and Dr. Narain Gupta.

The event was concluded with a Musical Event as an endeavour to celebrate the diverse cultures. Samvaad 2023, as intended, served as a platform for sharing ideas, exchanging perspectives, and igniting conversations that hold the potential to shape the future of business and leadership in our nation.