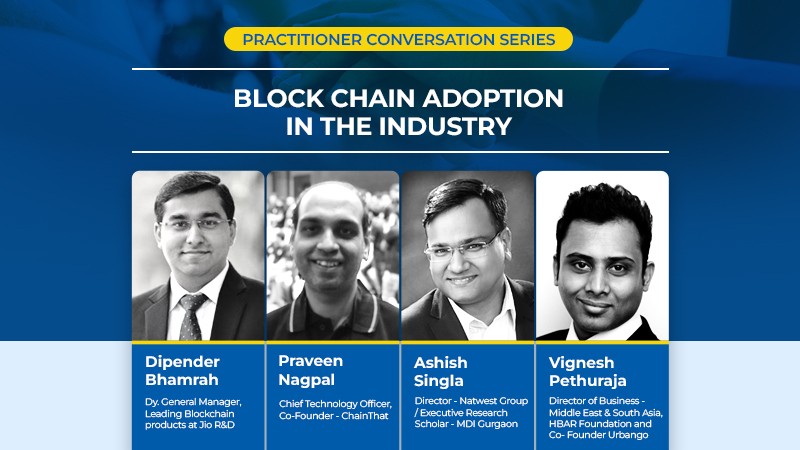 Practitioner Conversational Series - Block Chain Adoption in the Industry
May 13, 2022 | 02:00-03:30 PM
Blockchain technology, which got its start in solving the double-spending problem for #digital currency, has seen extensive adoption in enterprise applications since 2014. Businesses began exploring blockchain usage for trusted third parties, enterprise-level record-keeping, and mutability of records as use cases to solve enterprise business problems. In 2008, Satoshi Nakamoto, the mysterious person behind Bitcoin, described Blockchain (aka DLT for "distributed ledger technology") as a distributed network that could be used for maintaining the order of transactions, trust, and transparency. Blockchain technologies introduced profound changes to traditional business processes, which needed trusted third parties or a central solution architecture to verify them, and could now operate in a decentralised way with the same level of certainty. The topic of MDI Gurgaon's next Practitioner Conversation Series event is "Blockchain Adoption in the Industry".
The guest speakers for this session will be:
Mr. Dipender Bhamrah, Deputy General Manager leading Blockchain products, Jio R&D
Mr. Praveen Nagpal, Chief Technology Officer and Co-Founder, ChainThat
Mr. Ashish Singla, Director - Natwest Group/Executive Research Scholar-MDI Gurgaon
Mr. Vignesh Pethuraja, Director of Business (Middle East & South Asia), HBAR Foundation, and Co- Founder, Urbango
The session moderated by Prof. Sangeeta S. Bharadwaj of MDI Gurgaon.
Date: May 13, 2022
Time: 2PM – 3:30PM