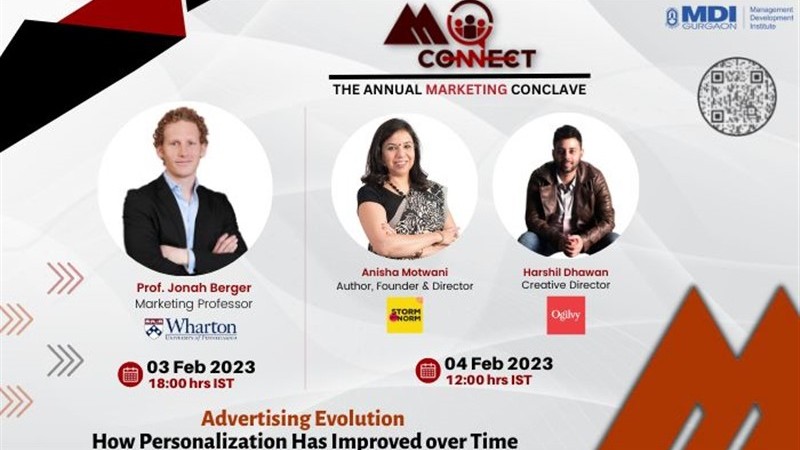 MarQConnect - The Annual Marketing Conclave
February 03, 2023 | 06:00 PM
Team MarQuity - The Marketing Club of MDI Gurgaon presents MarQConnect, the Annual Marketing Conclave on February 3-4, 2023.
The event MarQConnect is a platform wherein industry experts, academia, and future leaders of the country come together to share their insights and expertise on the current trends and developments in the Marketing Space.
The event will start with a Keynote Address by Dr. Jonah Berger, Wharton Professor, and The Bestselling Author on 3rd February 2023.
Join us for a keynote address on zoom: https://bit.ly/3WX5oV5
There will also be a Panel Discussion on the theme "Advertising Evolution - How Personalization Has Improved Over Time." on 4th February 2023 at 12:00 p.m. The panel will host Anisha Motwani, Strategic Advisor, Independent Board Director (Godrej Finance, Philips) and Managing Partner at StN Ventures and Harshil Dhawan, Creative Director at Ogilvy, Ogilvy India's Creative Person of the year 2022. The venue for the panel discussion will be MDI Auditorium.
Team MarQuity looks forward to welcoming you to the event.