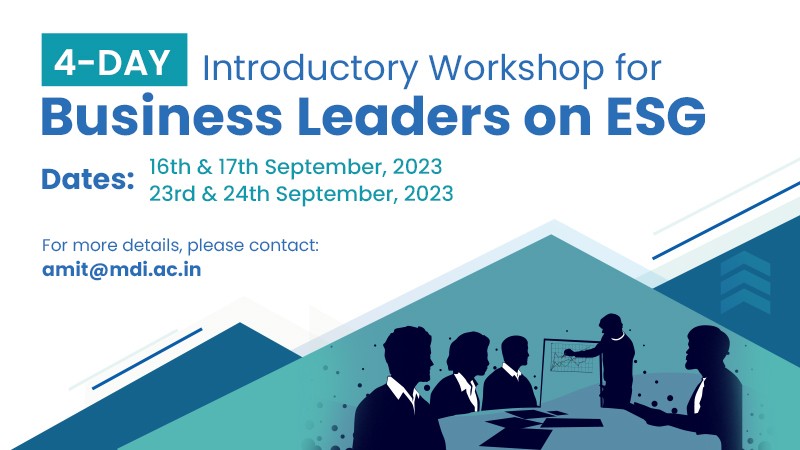 Introductory Workshop for Business Leaders on ESG
September 16, 2023 |
Management Development Institute, Gurgaon announces the 4-days Introductory Workshop for Business Leaders on ESG, which is to be held on 16th, 17th, 23rd & 24th September, 2023.

Participants
Corporate Professionals entering the field of ESG • Sustainability professionals who seek a deeper understanding of ESG

Batch size: 20 to 30
Workshop Coordinators:
Prof. Rupamanjari Sinha Ray, Assistant Professor, Economics and Public Policy Area and CERO Member, MDI Gurgaon
Prof. Neetu Yadav, Assistant Professor, Strategic Management and CERO Member, MDI Gurgaon
Ms. Jayati Talapatra, Consultant and Subject Matter Expert and External Member, CERO
Organized by CERO @ MDI Gurgaon :
The Centre of Excellence for Ethics, Responsible Organisations & ESG Initiatives is a platform for education, research and engagement on ethics and social and environmental responsibility. CERO's vision is to work towards a sustainable, peaceful and just world that continues to generate value for its stakeholders - "To build a better world".
For details and themes please check ESG workshop Brochure.
Google registration Link for workshop : https://forms.gle/VsdeMBX7TFWFxFKp9
Fee Remittance Details:
Management Development Institute Society
Union Bank of India (Erstwhile Corporation Bank)
Account: 520141001478504
IFSC Code: UBIN0904490
MICR Code: 110026332
GSTN : 06AAATM0612L1ZU
Please transfer the fee amount with GST to above Account details and share the transaction details to [email protected]