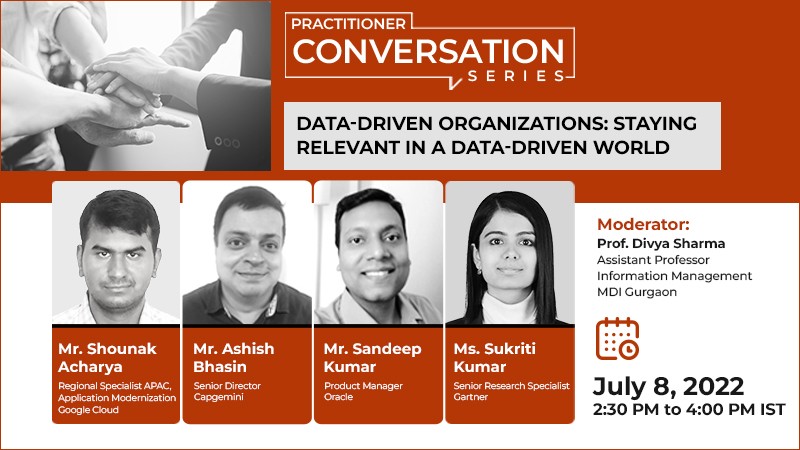 Data-driven Organisations: Staying relevant in a data-driven world
July 08, 2022 | 02:00-05:00 PM
Most organisations are today using data-driven approaches, including Cloud, Artificial Intelligence (AI) and Analytics. However, not all these organisations are able to capture value and drive efficiencies from this data-drivenness. In this connection, MDI Gurgaon is organising a Practitioner Conversation Series event on the theme "Data-driven Organisations: Staying relevant in a data-driven world". This panel discussion will be on how organisations can stay relevant and competitive in this digital era by identifying and acquiring desirable capabilities.
The following will be the panelists:
Mr. Shounak Acharya, Regional Specialist APAC, Application Modernization, Google Cloud
Mr. Ashish Bhasin, Senior Director, Capgemini
Mr. Sandeep Kumar, Product Manager, Oracle
Ms. Sukriti Kumar, Senior Research Specialist, Gartner
Prof. Divya Sharma of the Area of Information Management, MDI Gurgaon, will moderate the discussion.
Date: 08 July 2022
Time: 2:30 PM onwards
Registration Link: https://bit.ly/3RfmCLE